The Most Useful Reusable Straw...Ever!
Every Day Carry, All-In-One Spill Proof Cap and Straw
WATCH IT IN ACTION!
Perfect for: Gym, Car, Airplane, Boat, Bike, Office, and messy kids.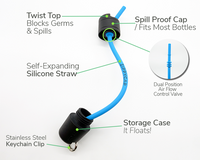 Anatomy of a ZippyCap
HOW TO USE
Unscrew from Case
Straw will magically expand on its own.
Push Firmly Down and Screw onto Bottle
Fits most bottles, and straw will bend to fit inside shorter ones.
Twist Open Top Germ Shield to Reveal Straw
Pull straw up for airtight fit or down to allow more airflow for carbonated drinks.
Use with Cups and Tumblers Too!
Remove the straw by pulling out from the bottom of the cap. Use separately as a standard straw.
HOW TO STORE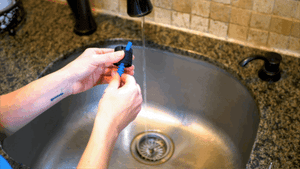 Rinse Straw and Cap First
Rinse it and squeegee it out if on the go. If at home we suggest to disassemble and give it a deep clean. How to clean tutorial.
Fold, Push, and Screw
Fold straw in half and then in half again. Push and tuck straw firmly into case. Push and screw securely onto case.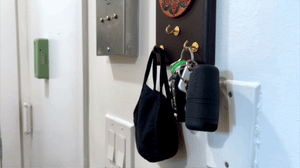 Store It!
Attach it to your keychain, bag, or stow it away in your car.

Spill-Proof Cap
Fits most standard store-bought bottles.
Our rubber-like stopper provides additional support inside the bottle.

Twist Top Blocks Germs & Spills
Twist the very top part of ZippyCap to reveal the silicone straw when ready to drink.
Twist it back to protect the straw from germs and spills when not in use.

Self-Expanding Food-Grade Straw
Our "No-Touch" straw is soft and flexible and will expand or bend to fit inside tall or short bottles without you needing to touch it.

3-in-1 Silicone Straw
1. Pull straw up for an air-tight sport water bottle function.
2. Pull straw down one click to allow air-flow for carbonated drinks.
3. Remove straw from cap and use separately as a traditional straw in cups, cans, and other bottles.

Made In USA & Good for the Planet
ZippyCap is actually MADE in the USA.
That means we can personally oversee all aspects of safety and quality.
When you buy a ZippyCap & Straw you help rid the planet of single use plastic straws.
All our packaging is made from recycled paper and plastic.
Durable and long lasting, we offer a cleaning kit to allow a deep cleaning, so it can be reused for years.

Every Day Carry
ZippyCap attaches to your keychain or bag with the included storage case and stainless steel clip.
Always have Zippycap handy in case you need to turn a beverage bottle into a sport bottle or spill proof tumbler.